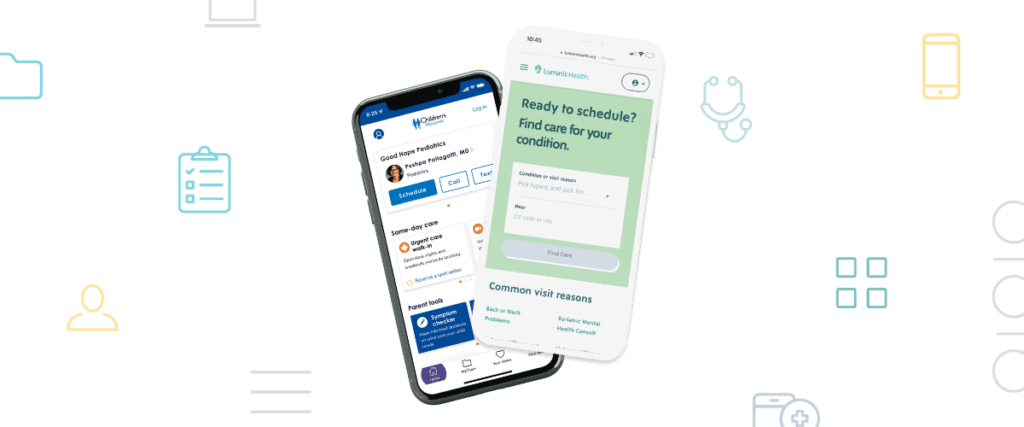 Our team put together a quick list of 10 digital stats we think your organization should know in order to drive the right digital choices for your consumers.
#1. Mobile usage is continually on the rise
Mobile usage by consumers continues to increase. Their expectations to use healthcare apps and tools in the same ways they are accustomed to (think Facebook, Marriot, or banking apps) also continues to grow and is putting much-needed pressure on the healthcare industry. A study by IDC predicted that by 2023, 65% of patients will have accessed care through a healthcare digital front door entry point.
Over the past five years, the number of smartphone users has increased by nearly 74%. And it's not just the younger population who is using digital, older segments (50-64 and 65+) are quickly catching up and have shortened that gap over the past decade.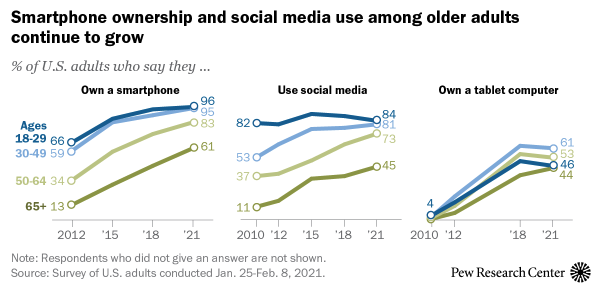 Modea's advice: Hospitals must understand that more people than ever are using mobile apps and there is no longer the age separation there once was. This also means that these age demographics are using digital tools in different ways, with their own unique needs. Organizations should be designing and building tools, like mobile apps, that take these needs into account and deliver a fantastic experience, regardless of age, gender, or demographic.
Read our recent report, There's An App for That: 8 Things Hospitals Need to Know, to learn more about today's healthcare consumer mobile usage. 
#2. 90% of the US population is located within 10 miles of your next biggest competitor
This is alarming and just a few years ago would not have even sparked concern. But if you haven't guessed it yet, Walmart is making huge leaps in the healthcare space and their geographic locations make them a competitor to almost any existing system. It's not just Walmart making healthcare headlines either. CVS, Dollar General, and even Best Buy are making waves by entering into healthcare and driving change.
MedCity News shares that "CVS has nearly 10,000 stores nationwide, with about 4.5 million consumers visiting those stores each day. Most Americans live within 10 miles of a Walmart and 65% of Dollar General stores are in health deserts, areas where access to local health care is limited for many consumers."
If your team isn't already preparing a strategic plan on how to engage and retain consumers then there is no better time to start.
Modea's advice: Start making forward progress today by strategically improving every touchpoint along your customer experience. Work to optimize their experience with your organization and build loyalty by making their lives easier. If you don't, you could lose business to another hospital system, or even worse, one of the many non-traditional competitors out there who are now providing healthcare services.
Interested in learning what your organization should be thinking about and planning for? We're here to help. Contact us and we'll set up a time to chat. We're happy to share how our clients are connecting their patient experiences at large.
#3. Hospitals are not prioritizing what consumers want
From our in-house research, we found that more than half of the respondents in our survey said they frequently want to use a mobile device to manage healthcare needs.
Yet, the percentage of healthcare systems offering a mobile app for consumers has remained the same, at just 49% compared to the previous year. If this doesn't shine a glaring light on the growing disconnect between what consumers want and what healthcare organizations are prioritizing, then what would?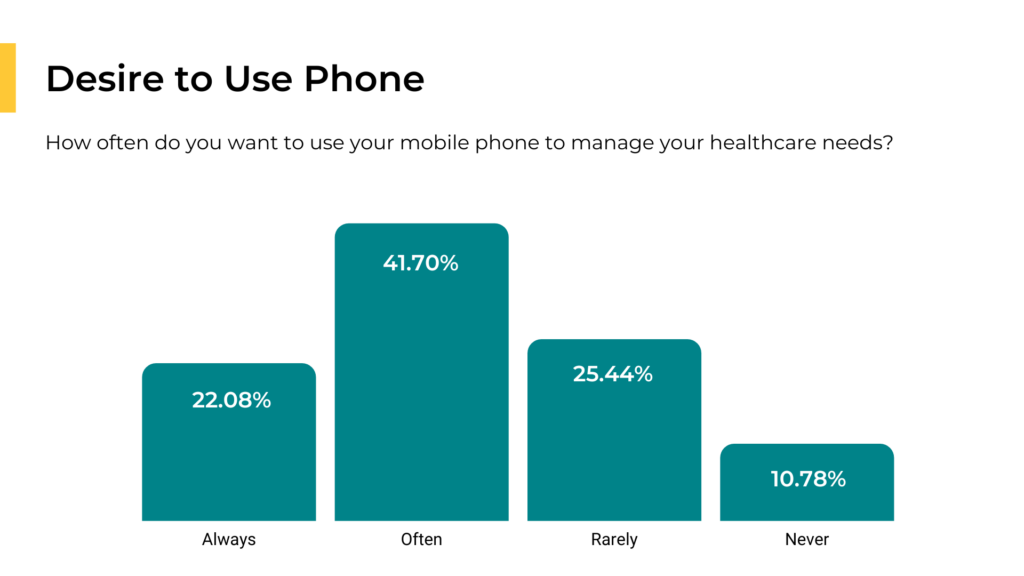 Modea's advice: Don't just build a mobile app to have something in the marketplace. Take the time to understand what your consumers want and their unique needs. When was the last time your organization carried out a customer journey mapping exercise to better align and understand your evolving patient needs?  We recommend re-visiting customer journey mapping every 2-3 years.
#4. Only 18% of hospitals have recently completed a customer journey map exercise
That's right. Our team recently surveyed nationally ranked children's hospitals and 2 out of the 11 indicated that they had completed a full, cross-functional journey map. All participants, however, understood the importance of this and are working towards capturing consumer data and needs, whether in-house or by partnering with an external resource.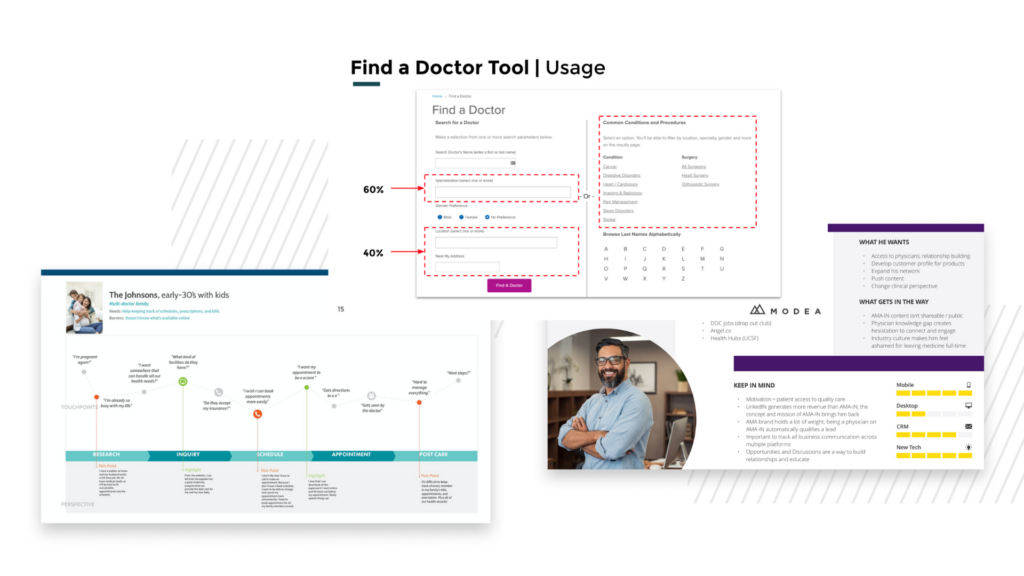 Modea's advice: Do you know the very basics of how your patients engage with you on the web? This guide is full of questions, exercises, free tools, and more. Download the guide to help make the most out of your web analytics platform and learn how your website stacks up against your competition.
#5. Appointment scheduling is crucial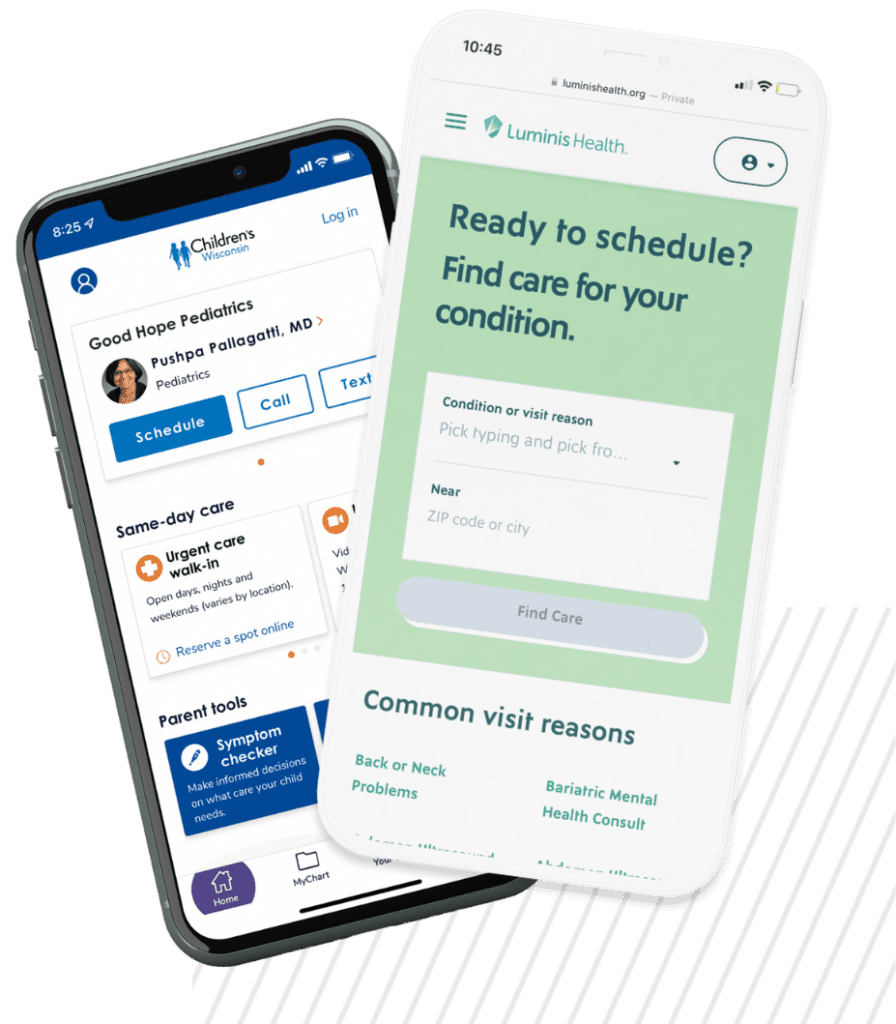 Our team ran a survey to better understand the mobile usage of today's healthcare consumers and asked the open-ended question "If I could change one thing about my doctor's patient portal it would be …"
The number one answer is? Scheduling appointments.
We've heard this request time and time again. Most organizations do not have full open scheduling capabilities implemented, although they have the technology and systems to allow for it. Revamping your scheduling process so a patient can easily authenticate one time and find their specialty, choose their doctor, see available time slots, and book that appointment quickly is key to optimizing patient flow.
Modea's advice: Think back to the new entrants in the healthcare space who will be providing a benchmark level of digital experience and personalization. If hospitals don't start offering more of what consumers need, there's a greater chance that consumers will go elsewhere for care. Healthcare organizations, both large and small, can save time and increase revenue by prioritizing the right digital experiences and appointment scheduling should be at the top.
#6. A poor digital tool ruins the entire patient's experience
It's true and should light a fire under the organization to begin if not already investing in the proper data-based tools to launch intuitive digital patient experiences.
Accenture reports that more than a quarter of respondents are willing to switch to a different provider for high-quality digital services. In addition, half agreed that a poor digital patient experience with a healthcare provider "ruins the entire experience with that provider".
Modea's advice: Work to align internal departments and stakeholders on the need and importance of creating the right digital tools. This means looking at your patient demographics and understanding what they need and how best to deliver on that. Start with a plan and work to develop your "Digital North Star" which is what we refer to as a 3-5 year plan for how you'll embark on digital transformation. Establish clear and measurable goals to present to leadership and don't forget to research your competitors.
#7. Consumers want personalized, convenient, and connected healthcare
CVS recently published a report that illustrates how important personalization and connected healthcare experiences are for patients. A personalized experience could look like a public website that allows a consumer to have a logged-in experience that:
suggests physicians and locations based on a consumer's prior searches
offers an intuitive telemedicine platform and experience
curated content based on consumer patient portal activity
85% surveyed said that personalized care is essential. The data also shows that consumers expect integrated care experiences that feature easy-to-use technology and 59% of respondents want access to virtual and telehealth services.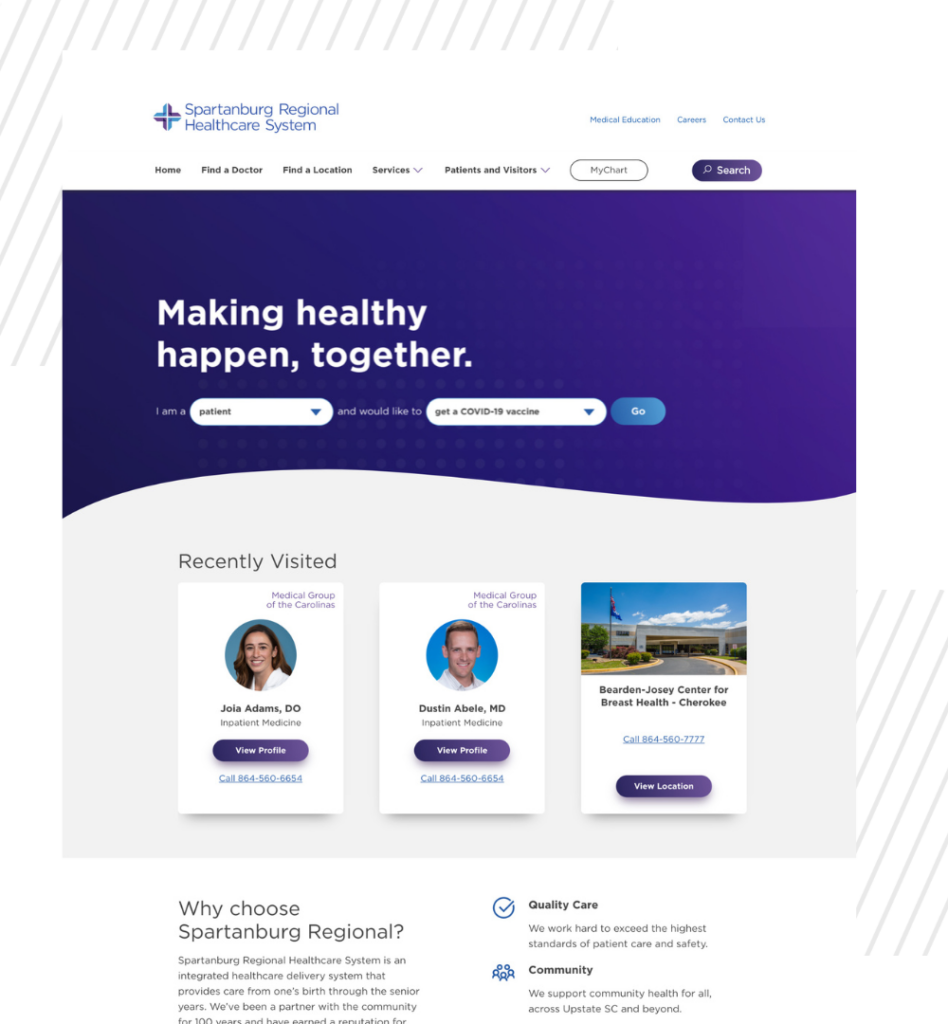 In this study, more than 90% say convenience is a necessary factor when choosing a primary care provider, with more than one-third having scheduled a virtual visit to save money or time.
Modea's advice: Explore your CMS and web platform to see what is possible out-of-the-box with personalization. Many hosting platforms come with great features you can implement and explore phases of personalizing the customer experience. Look into how many times a user has to authenticate throughout their journey to pay a bill or schedule an appointment. We can help you decide what to prioritize and how to get it built and working so that your patients feel like they matter and are not just a number in your system.
#8. Consumers will increasingly choose medical providers who offer digital capabilities
In stat #6 above we touch on the importance of a good digital experience. Now we begin to look at the results of a poor one. Fierce Healthcare shares that "41% of patients said they would stop going to their healthcare provider over a poor digital experience". Not surprisingly, 1 in 5 patients has already switched providers due to a poor digital experience.
In addition, the survey found that poor digital experiences are a big reason why consumers write negative reviews online and those reviews are highly influential.
About 1 in 5 patients have given a negative review of a provider because of a poor digital experience.
Modea's advice: Start with competitor research on organizations that your target market could also visit. See what they are offering and make a comparison document showing where you stack up. If you're unsure about how to best accomplish this, Modea offers a free digital impact analysis that you should take a look at.
#9. Online ratings and reviews influence provider selection
25% of consumers said online ratings and reviews influence their choice of provider.
The interconnection between the consumers' want for physicians with digital capabilities and how poor digital tools completely impact the patient's experience is crucial to note. Consumers are more inclined to write a negative review compared to a positive one. So if you're digital tools are not chalking up to your competitors, it's likely that you'll receive less-than-ideal reviews which in turn could very well begin to impact your physician appointment scheduling.
Modea's advice: While 25% say it influences their choice, a higher percentage of people will book appointments with a doctor who has honest and up-to-date reviews. Starting with your provider profile pages and working out other online listings for the doctors, having reviews is a critical piece of trust and bringing patients in.
#10. Telehealth is here to stay
Healthcare Innovation reports that within the first two months of 2022 75% of respondents said that they conduct primary care visits via telehealth. And a McKinsey survey found that about 40% of consumers said they plan to continue using telehealth moving forward, up from 11% prior to COVID-19.
Although not growing at COVID-fueled rates, the continued use of telehealth is consistent across the board.
Modea's advice: Offering telehealth is somewhat of a standard now in healthcare and it won't be going away any time soon. If a patient books a telehealth appointment, make sure to send them instructions for setup ahead of time so they have the right software downloaded (or updated) and know how to use it. And don't forget to educate the providers on how to use the software and tools available as well. It's very common for them to also be having trouble conducting virtual visits mainly due to the technology.
Ending note
We hope you learned something here and can share these stats with other members of your team and organization. If you have questions about how to plan for or implement, any of what you've read above, contact Modea today for a chat.