SERVICE
Digital Strategy & Roadmapping
Does your healthcare organization know what your most important digital investments over the next 2 - 3 years should be? To stay in front of what your customers expect, you need a digital strategy and multi-year roadmap.
Lets Chat
Industries like banking and travel provide seamless digital experiences. Hospitals and healthcare systems are working to catch up. They should be investing as heavily in digital as they are in brick and mortar facilities. But when there is so much to do, how do you prioritize your digital needs and set your organization up for success?
Modea works exclusively with large healthcare organizations to help them better own their customer-facing digital experiences.
Platform governance and planning
Strategic consulting
UX research
Customer journey mapping
Competitive evaluation
Our Digital Strategy and Roadmapping Process
Our process of discovery starts with gathering the right people at the table and putting the customer in the center of conversation. 
Through UX research and interviews, we'll map your customer's journey as it is today. We'll also review competitors from both inside and outside the healthcare industry. This data allows us to identify the gaps and opportunities in your customer's digital experience.
From there, we'll recommend the areas within digital where you most need to invest, whether it's improving specific areas on your website or building a proprietary app. We'll create a calendarized road map that lays everything out in detail, including:
How to sequence initiatives (what needs to be done first?).

How long each initiative should take.

What each initiative should cost.

What partner you'll work with on each project.

How you'll measure the success of whatever you build.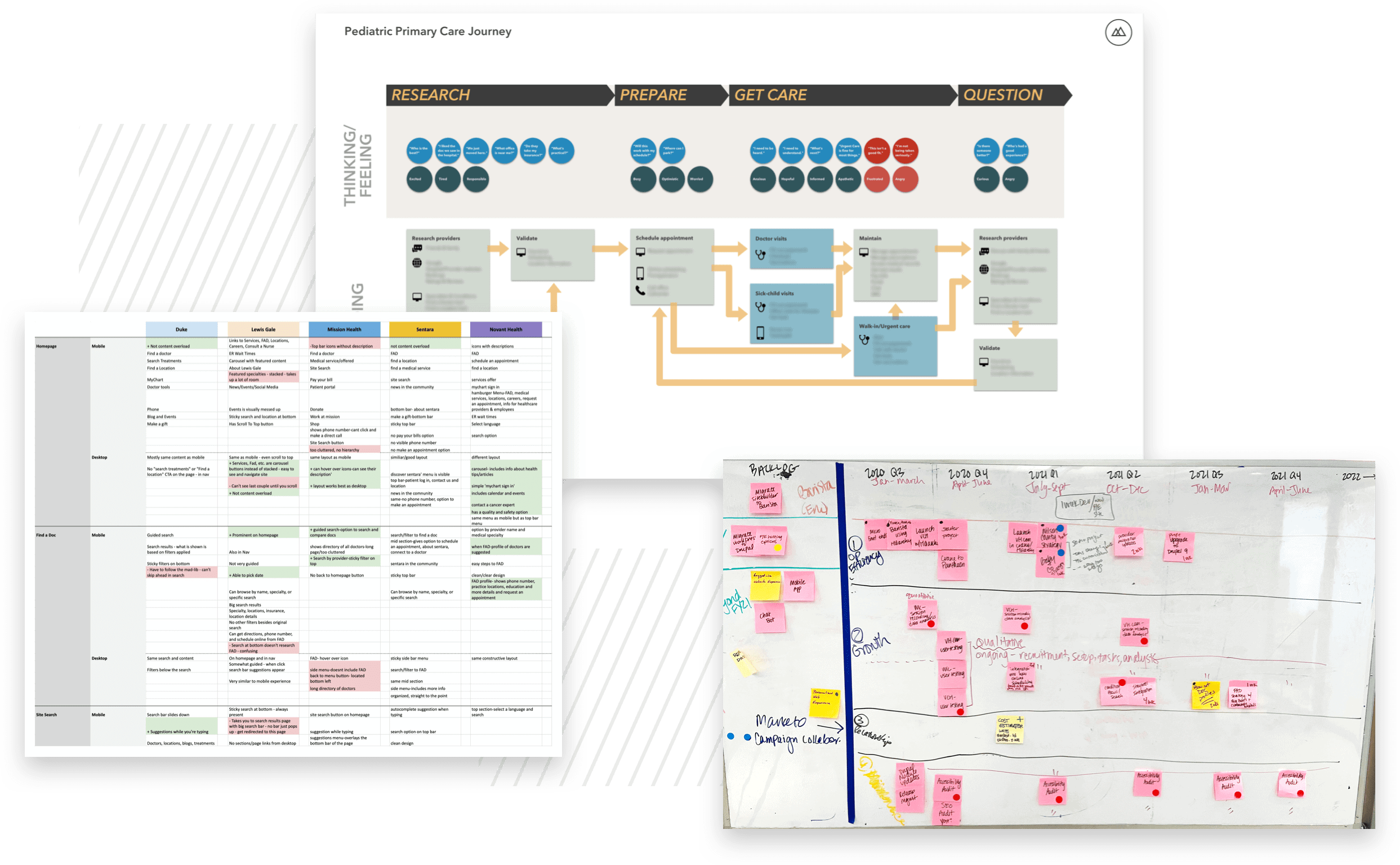 Setting Your Healthcare Organization up for Success
In addition to defining a structure and process for all digital efforts, we'll help you run the steering committee that will own digital. We don't simply create documents for you. We make sure your hospital or health system has the right pieces in place internally—so that you can successfully follow the roadmap.
We often provide this as a stand-alone service to healthcare clients. But we also have ongoing consulting partnerships with clients, where we continue to shape and refine the roadmap over time.