Earlier this month, our team sponsored, exhibited, and presented at the Healthcare Marketing & Physician Strategies Summit in Miami. It was refreshing to be back in person and see familiar faces.
There were many noteworthy speakers and trending topics covered throughout the week. We decided to put together a list of major HMPS 2021 takeaways and themes from the content presented for those who were unable to attend this year.
#1 Communication is "key"
The importance of communication was brought to light last year. Consumers and the general public were constantly looking for answers. Yesterday's news was no longer relevant and we spent hours sifting through articles only to find outdated information.
HMPS dedicates one out of its five tracks strictly to communication. We attended numerous sessions that provided suggestions on how to do so efficiently and effectively without inundating an audience. Overall the presenters advised that you take a natural, authentic approach to content creation and delivery. Do not make the consumption of news more complicated than it needs to be. Make the best use of the systems you have.
Some organizations took a unique approach to communication that was very notable.
LCMC Health, took a celebratory and welcoming approach to combat the cold, impersonal lines during the vaccine rollout. The Louisiana-based organization made the vaccination process fun for all. Their team added Mardi-Gras-themed floor stickers, photobooths, and free concerts to liven spirits.
Hunterdon Healthcare had a member from the C-Suite team provide quick and personal updates for patients via daily Facebook videos.
#2 Consumers expect more from healthcare
This should come as no surprise. We know that consumers are expecting healthcare to deliver experiences as the big tech companies do.
You're falling behind if your organization cannot deliver a customer-centric experience that delivers real value and a lasting impression.
Two ways your organization can get started:
#1. Create a customer journey map
We surveyed several nationally ranked hospitals and found that only 18% indicated that they had completed a customer journey map. Problems arise when digital content is created from the inside out, without data and input from the end-user. Why spend hundreds of thousands of dollars on a consumer-facing product that does not meet the needs of the customer?
Journey mapping can help you strategically set goals and expectations as well as more accurately understand what your customers need. Understanding the importance of customer journey mapping and how your consumers can directly benefit should be a critical step in your digital road mapping strategy.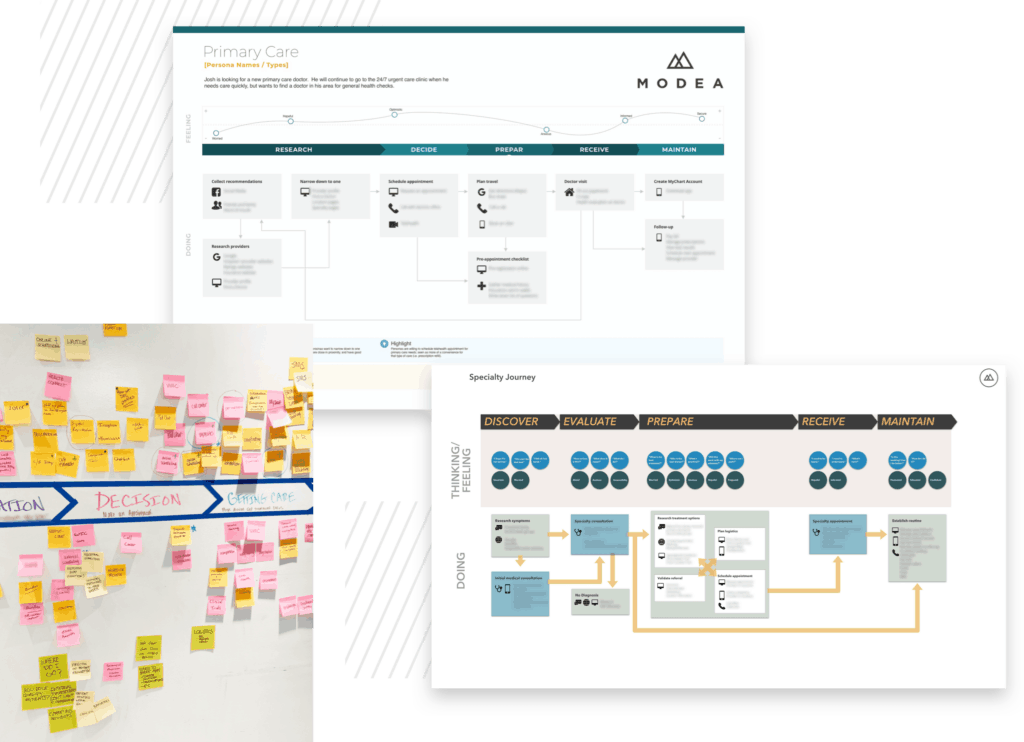 #2. Understand your consumer behavior trends
It's fair to say that the experience of living through a pandemic has forever changed consumer behavior, especially in healthcare. Your patients demand quality, affordability, but what else?
From our research, our team uncovered 3 top trends that can help your team prioritize customers' needs on the web.
Time is precious
We found that the pandemic has exacerbated an interesting trend. Customers are more likely to be transactional, and they want transactions to happen immediately.
Perfect the details
Did you know that today's customers are more likely to have shorter sessions—specifically, sessions of 1-3 pageviews? Therefore, your customers are likely to miss important content that is 1-3+ clicks from your product page content.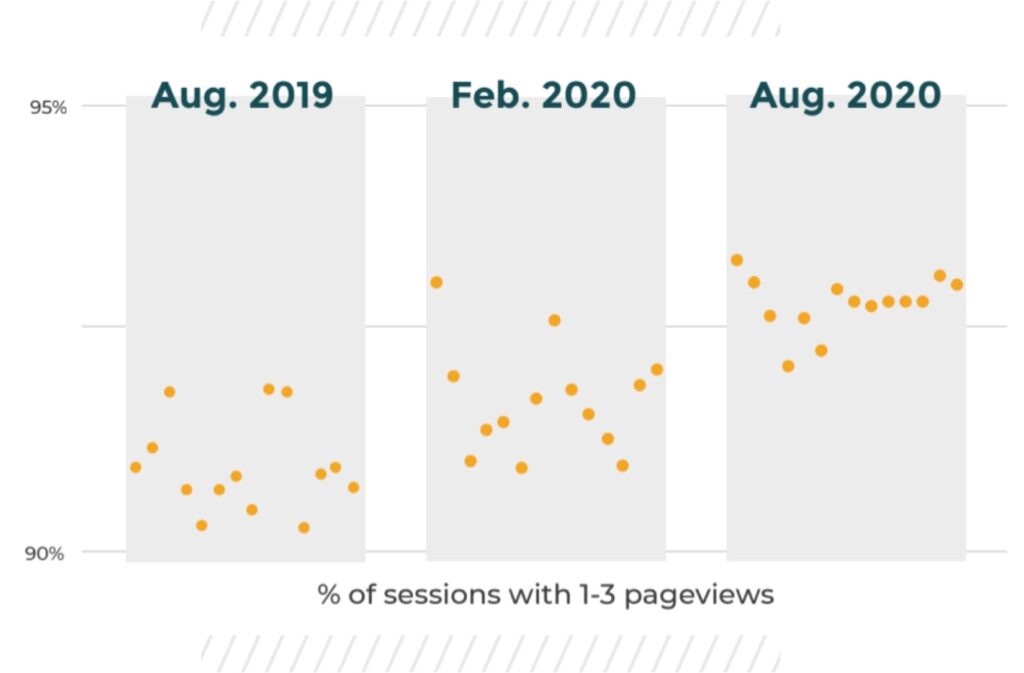 Connection is key
If a customer enters your site on a non-product page, such as an informational coronavirus page that has updates and relevant information, and is able to navigate to another area of the site within 3 page views, they are roughly 30-40 times more likely to convert.
So even as your customer's willingness to hunt for information continues to decrease, how well you connect the disparate areas of your site can increase overall conversions for the site.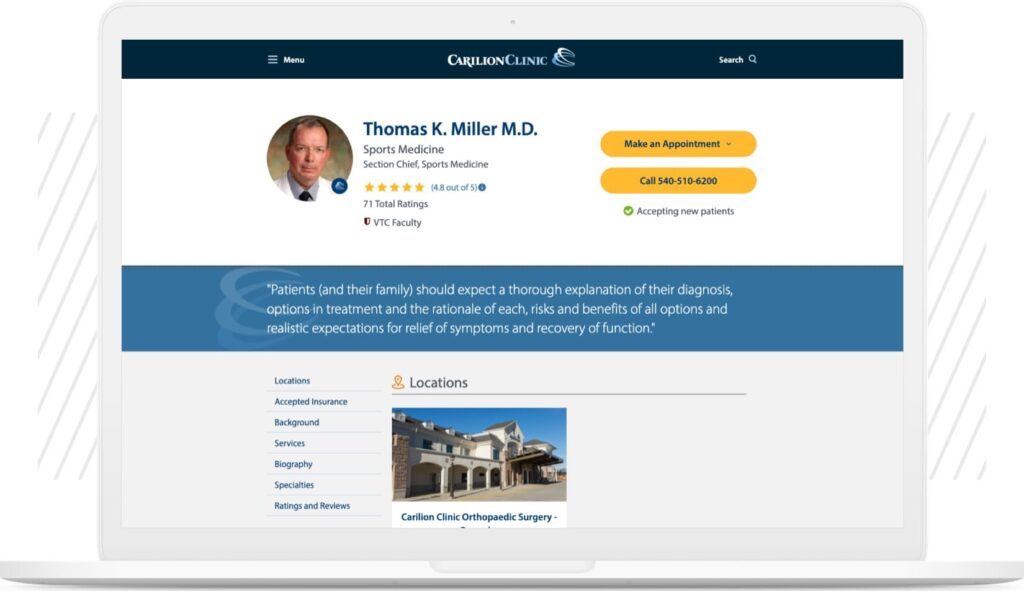 #3 The future of telehealth
Since the major onset of telehealth, we've seen countless direct benefits. In fact, Becker's Hospital Review reported that 85.5% of Americans said telehealth has "made it easier to get the care they need."
However, as we emerge from the pandemic, telehealth should not go to the wayside, rather organizations need to expand beyond virtual urgent care. McKinsey & Company reported that around 40% of consumers stated that they will continue to use telehealth going forward—up from 11% prior to COVID-19.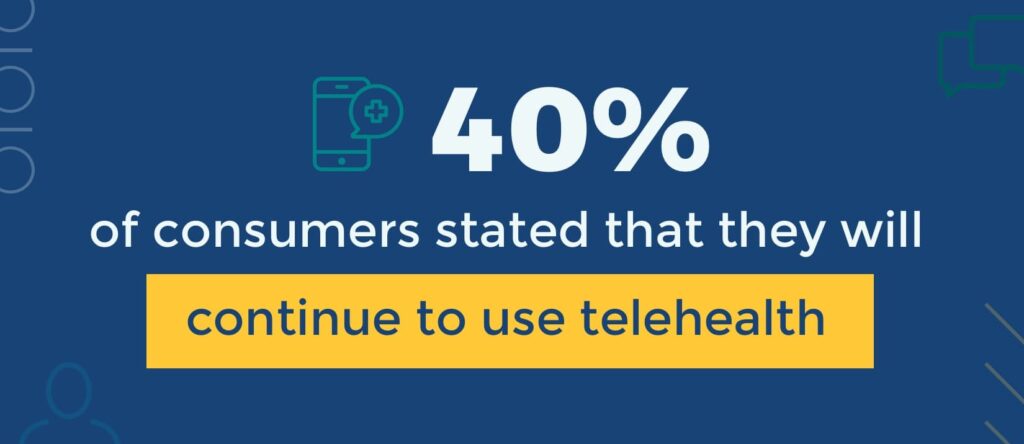 In addition, research shows that between 40-60% of consumers are interested in broader virtual health solutions i.e. "digital front door" as well as lower-cost health plans.
But how should healthcare systems plan for the next chapter of virtual healthcare?
Our team suggests that any digital plan forward should be rooted in data by firstly understanding your consumers and their needs. This can be done through customer journey mapping exercises, user interviews, persona development, and more. The collected data should then be used to drive the creation of seamless consumer experiences across the board and will help to optimize the future of your organization's virtual care longevity.
#4 Chatbots are here to stay
Why not aim for a patient-oriented approach to reduce the strain on your limited resources?
All sounds fantastic! But, have you and your team thoroughly thought through your organization's specific needs?
A well-thought-out and implemented chatbot can seamlessly integrate into an organization's digital consumer experience. However, a not-so-great one can lead to serious consumer discontent. That's why our UX team advises that before getting too excited about a chatbot, your team first answers…
"What is the main problem we're trying to solve for the consumer?"
In order to create a proper chatbot, you will need to be very clear and upfront about its capabilities. Otherwise, some patients will automatically expect to "chat" and have a full range of flexibility. However, when the chatbot is unable to do so, will become frustrated. We suggest that your team plans to complete an in-depth UX exercise prior to implementation. This includes:
Settling on a goal
Mapping out personas
Crafting user flows
Teasing out the language (and possibly synonyms your chatbot will use)
Quick tip: if you're trying to help a patient find specific content you may be better off investing in content strategy and internal search.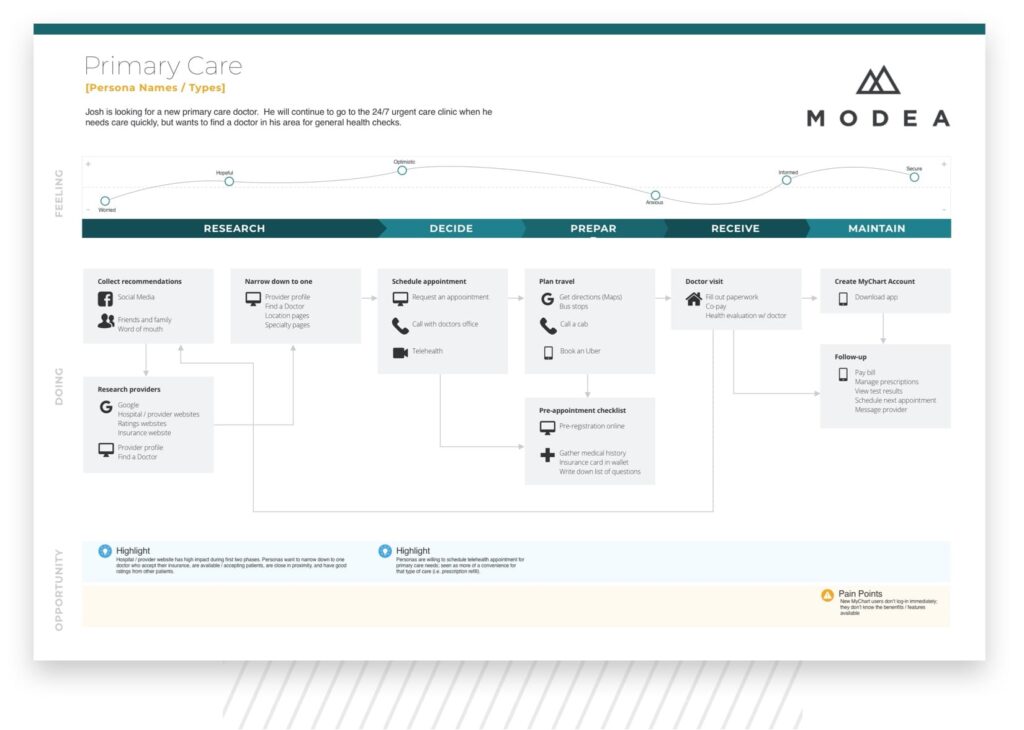 What's next?
COVID has helped to accelerate digital transformation and consumer experiences for healthcare. As we emerge from the pandemic it's imperative that organizations continue to forge stronger connections with patients.
Our team can help.
We help healthcare organizations identify the right digital strategies and create products that …
infuse control
transparency
and choice
… into the consumer healthcare experience.
Contact us to learn how our clients are tackling some of healthcare's biggest challenges.