SERVICE
Marketing Analytics & BI for Hospitals & Foundations
Your hospital or foundation wants to make data-driven decisions. But are you collecting the right data and connecting your data streams to get the insights you truly need?
Chat with our team
As a healthcare organization, you rely on marketing data to know how customers engage with your brand. Data tells you who visits your website, who clicks through on emails, who likes social media posts, who attends events, who donates, and any number of other activities.
Very few hospitals or foundations have the bandwidth or expertise to pull all of their data together and analyze it. Using data science and business intelligence tools, Modea knows how to help you get exactly what you need from your data.
Data science
Marketing dashboards
Business intelligence
CRM integration
Google Analytics
Data warehouse and data lake creation
Machine learning
Download Our Free Report
See how COVID-19 is changing your customer website behavior
Download Report
Customizing Your Data Analytics
Google Analytics (GA) is a powerful tool. But to be useful, it has to be set up properly. We find that it rarely is, because data science is a specialized skill. The way your providers know treatment best practices? That's how we know analytics. We're specialists. 
We'll learn about your business objectives and then we'll customize an analytics plan for you. We can help you measure every digital touchpoint your customers have. But that's just the beginning. 
We Connect All of Your Marketing Data Together
Need to get internal stakeholders on board with the strategy you're proposing? Nothing motivates like data.
But not when it's siloed. How do you get good insights when you have data coming from 16 different sources, with 16 different dashboards? It's unwieldy, and hard to separate the useful metrics from the mess of data that needs cleaning.
Using cloud platforms, we can create data warehouses and data lakes to store and organize big data. Then we clean and integrate your data at a fraction of the cost of traditional CRM software. And because we specialize in healthcare, we know how to ensure HIPAA compliance.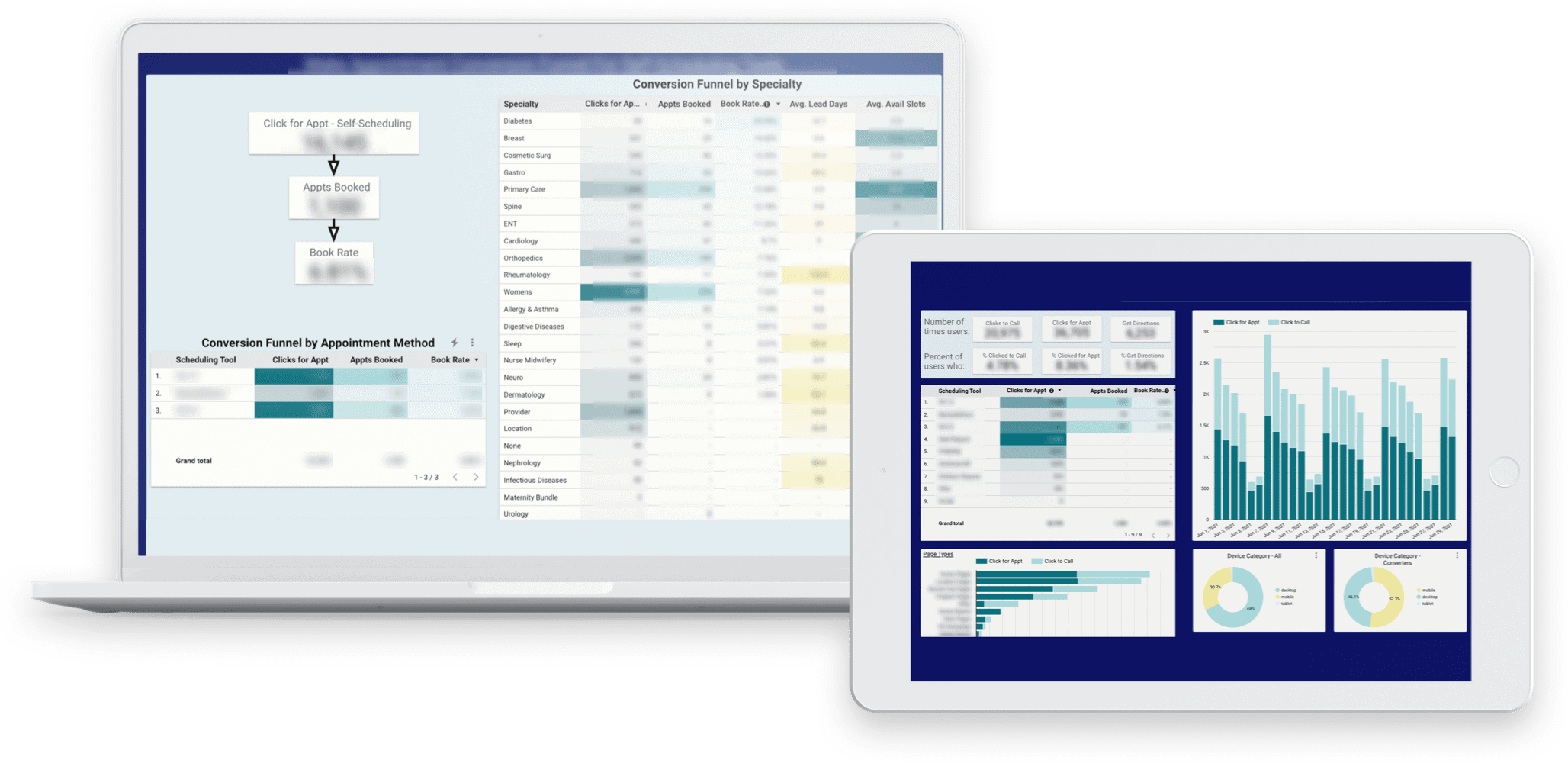 We Create Business Intelligence Dashboards to Understand Your Data
We use BI dashboards to configure all your data into a single source. If you're already using a BI program, we can build on what you have and configure it to wrangle all of your data. 
We include multi-source attribution in all of our reporting, because neither first-touch nor last-touch is wholly accurate. For foundations, this means you can trace the path of interactions that led to any given donation. 
Where we shine is that we don't just show you numbers. We tell you the story behind the numbers. We offer context around the graphs, so that you can make sense of what you're seeing and truly use the insights to make decisions.