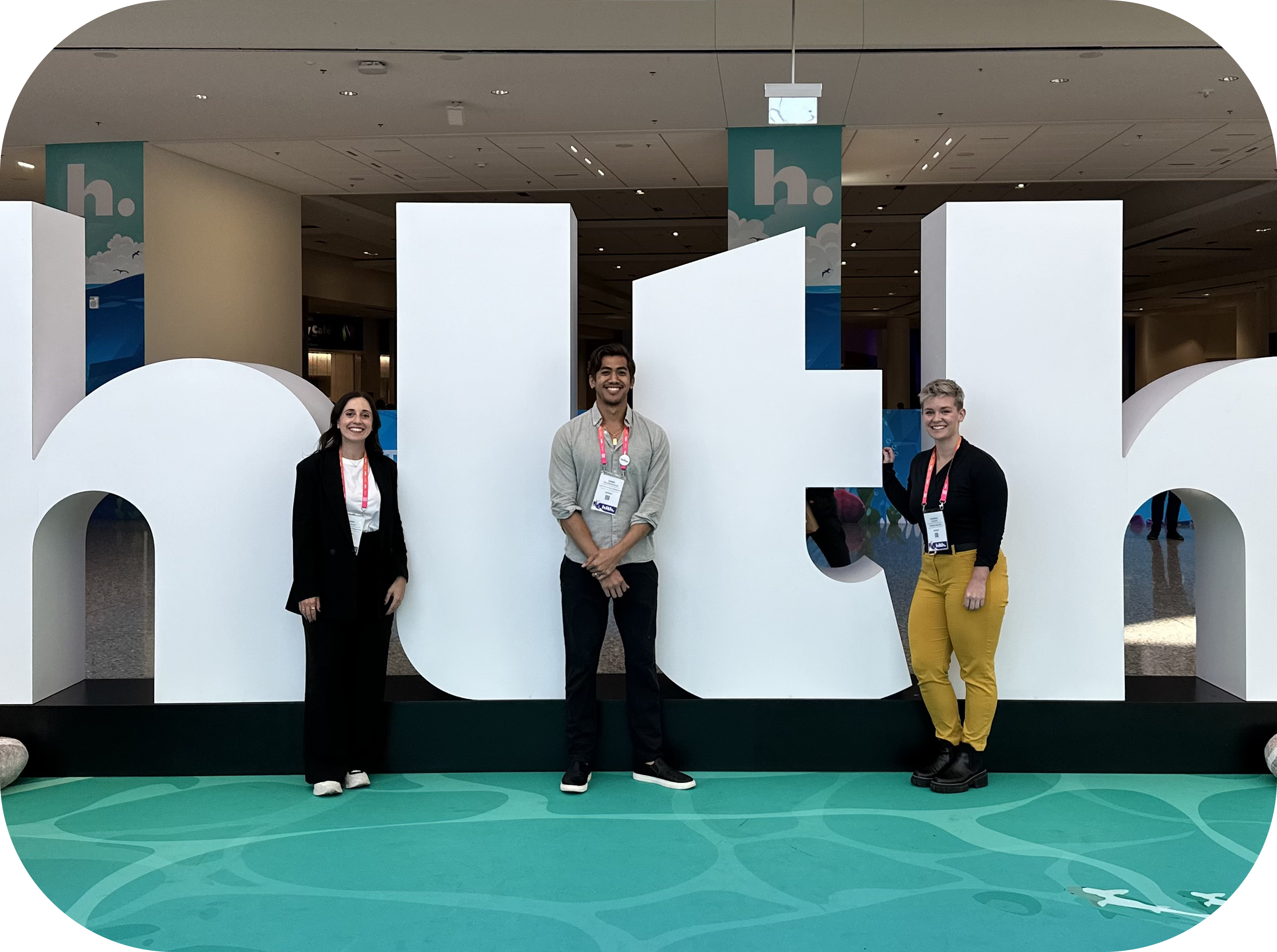 Earlier this month, healthcare professionals from across the globe converged in Las Vegas for the annual HLTH conference. The event highlights the conversations shaping the future of healthcare delivery, technology, and policy. Through panels on virtual care, health equity, data integrity and interoperability, the patient and caregiver experience, and digital innovation, leaders across the healthcare continuum shared their challenges and insights. Modea sent three of our own to learn from the best and brightest minds in the industry.
As healthcare digital product consultants with a mission to improve the healthcare experience, Modea attended HLTH to learn comprehensively about the digital healthcare landscape. In a conference with 10,000+ healthcare industry peers, who all on some level share our mission, there was no shortage of inspiration. We learned about new technologies that enable better virtual care, opportunities to improve interoperability and, as a result, both the patient and provider experiences, and innovative use cases of generative AI. We're eager to bring this inspiration forward into our product development work as we partner with our clients to better serve their customers.
In this blog post, we'll cover our top takeaways from HLTH, and we'll summarize how you might bring these insights into your consumer-facing product development practices.
Investing in the Entire Caregiving Experience is Crucial
The caregiver experience often remains an afterthought. However, caregivers tend to carry substantial purchasing power in healthcare, and therefore, caregiver satisfaction strongly predicts loyalty. Caregivers, like patients, will switch providers based on a poor or inefficient experience – digital and otherwise.
So how can payers and providers elevate the caregiver experience? Solutions that provide consolidated, thorough family health records, centralized scheduling, care coordination, and resources to ease the complex balancing act of caregiving are table stakes. Measurement is also important. Just as health systems measure patient experience from a clinical standpoint, measuring the wraparound care experience for patients and caregivers will help identify successes and opportunities. For instance, health systems might consider facilitating surveys to better understand the caregiver experience. Monitoring call volume metrics can also be an indicator of caregiver experience; reduced calls can indicate that caregivers are able to accomplish tasks via virtual self-service.
Another consideration here is that women are more likely than men to be their family caregivers (a statistic that was exacerbated by the COVID-19 pandemic). Furthermore, the administrative burden of caregiving falls disproportionately on women of color. As such, reducing the caregiver burden is not only important from a patient/caregiver loyalty perspective, but from an equity perspective, as well. By reducing caregiver burden for women (and women of color), health systems can enable these caregivers to have more time for work, addressing their own healthcare needs, and more.
How to Apply this to Your Product Development Work: Caregiver User Research
From research through design, development, and testing, product development to serve patient populations often starts with a deep study of the patient journey. However, we could all do more to understand not only the patient or patient-family journey (in the case of children's hospitals), but the experience of any caregiver engaged in that patient's care: whether it is a parent, a spouse, a child, or otherwise. By better assessing the caregiver journey, their challenges, their desires, and their experience, product teams can more intentionally build products that not only drive efficiencies and improve the quality of the patient experience, but do the same for caregivers. ROI matters, and investing in products that improve the caregiver experience will ultimately help you provide more care to more people.
Leveraging Tech to Strengthen Patient-Provider Relationships
Virtual care promises convenience but threatens to jeopardize the human relationships at the heart of healthcare. Still, virtual care is necessary for improving access to care. Successfully scaling virtual medicine requires technology that augments trust and rapport between patients and providers.
We learned about several technologies aiming to strengthen the patient-provider relationship, and in doing so, improve the care experience. For instance, leveraging universal patient identifiers can help patients and providers consolidate health records to give providers fuller context about a patient's history. (Imagine the alternative experience, which many of us have ourselves experienced, when a provider knows nothing of your health history and may provide inadequate care as a result.) AI-powered chatbots and virtual assistants allow care teams to efficiently handle routine administrative tasks, freeing up provider time to interact on a human-level with patients. It's important to remember, however, that solutions must enhance, not replace, human connection.
How to Apply this to Your Product Development Work: Keep Tracking AI Use Cases
On a recent webinar, we heard the quote, "we're in the flip phone era of AI." What does that mean? Think of how far cellphones have come since the introduction of the flip phone, which was innovative for its time, in 1996. We are at the beginning of the era of AI innovation, and at this point, it's hard to predict how this technology will evolve. What we do know is that from accelerating drug discovery to optimizing hospital operations, AI will shape the next generation of healthcare. Healthcare product teams will need to keep their fingers on the AI pulse, tracking trends and new use cases, and continually learning how to apply or integrate AI capabilities into consumer-facing healthcare products. AI and other digital, emerging trends underscore the value of agile product development. The more agile your product team, the more iterative the products you'll build. As AI innovation accelerates, building products that can evolve with the technology will be paramount.
Community Health and Prevention
"Health is mostly not about healthcare," declared Dr. Larry Moss, CEO of Nemours Children's Health. Put in other terms, health mostly happens outside of the walls of a hospital or clinic. Education, nutrition, housing, and other social determinants drive the lion's share of health outcomes. (Addressing social determinants of health was a big theme at the ViVE conference earlier this year.)
At HLTH, there was a lot of focus on solutions that address health outside of healthcare. For instance, Instacart Health's Food as medicine program, which will now provide access to Medicare Advantage members, as well as the broader Well at HLTH exhibit, both underscore the emphasis of nutrition – and equitable access to nutritious foods – on health outcomes.
The transition from treatment to prevention is tied to the transition to value-based payment models, which has been sluggish. Digital health companies can assist by providing platforms and tools to help providers succeed under new value-based incentives, such as patient engagement solutions to drive prevention and treatment adherence, tools that keep patients actively involved in their care, and further upstream community-level interventions.
Paying providers for services that proactively maintain health, rather than rewarding volume of treatments, also holds promise; progress on value-based payment models will require more buy-in and collaboration from payers and employers. Prevailing incentives simply aren't structured to reward preventative medicine. Investment in community health and addressing root causes, not just symptoms, remains imperative.
How to Apply this to Your Product Development Work: Personal and Community-Level Journeys
The tools patients use to manage their health will continue evolving, both at the personal and community level. As you establish and evaluate your organization's strategies and goals for the consumer digital experience, having an understanding of these new characteristics of and solutions for the patient journey will help you assess the potential impact of product development initiatives. For instance, you might want to consider not only how your patients are interacting with care within the four walls of the health system and via your digital experience, but outside of those places, too. What are they facing in their community that may impact their health outcomes? Do they have access to healthy food and pharmacies? How might your digital tools help level the playing field for members of your patient population with different personal or community-level experiences?
A Focus on Whole Person Health
Historically, care delivery has zeroed in on isolated conditions and episodes. But momentum is building around "whole person health," which considers the complete physical, mental, and social needs of patients. Whole person health represents a societal shift as much as a clinical one as patients themselves can drive more of their care and health outcomes.
We heard from innovators changing the face of at-home diagnostics, advancing stress and fitness tracking, and focusing on underlying, root causes of conditions. Importantly, none of these innovations can exist in a vacuum. For "whole person health" solutions to take root, they must integrate with existing care pathways, whether that means connecting to patient health records, appointment scheduling, or treatment plans.
How to Apply this to Your Product Development Work: Rethink the Meaning of Omni-Channel
Whole person health takes omni-channel patient experience one step further. Historically at Modea, we have talked about omni-channel care to the extent that it enables a seamless transition between the digital and analog points of the care journey. To include whole person health solutions, omni-channel must also account for all that the patient is doing outside of traditional care delivery settings (virtual or analog). What is the patient managing in their own time, on their own devices? How will these personalized health solutions integrate with the products you are building for their patients? Product teams that are paying attention to the whole person will be able to better serve the needs of the whole patient.
In Summary
In the case of HLTH, what happened in Las Vegas will not stay in Las Vegas. Rather, it will carry implications for years to come. Along with 10,000+ of our industry peers last week, we learned about the innovations and frictions that will shape the future of healthcare. We hope that the insights and applications we shared through this article will help inspire you to think differently about your product development processes, whether in how you study your users, how you test your products, or how you build products that will adapt and evolve with new technologies.
Here at Modea, as consultants helping our clients shape the digital healthcare experience, we are eager to carry these learnings forward into our work. Get in touch with us if you want to learn more about how we can apply these industry trends to day-to-day product development for your organization.