Recently the Modea team had the opportunity to attend ViVE, a digital health conference, in Nashville. In addition to connecting with clients and colleagues, we got to hear from some of the most innovative and influential minds and brands in healthcare.
ViVE aligned closely to our Modea vision of making healthcare more human and personal. We learned how players ranging in size from new startups through technology giants are investing in the digital healthcare space, with collective missions to improve the patient and provider experiences.
Here are the major themes we heard for how innovators are looking to disrupt and improve healthcare.
Theme 1: Interoperability
Interoperability refers to how disparate systems, technologies, applications, and other tools speak to one another to provide a better, more seamless experience for the patient, provider, or health system. As the industry is witnessing a deluge of new technology solutions, the movement towards interoperability will remain critical to ensure different devices and applications can communicate and exchange data.
Interoperability means that patient health information (PHI) can be effectively shared between the electronic health record (EHR) and other tools. And because PHI is involved, maintaining patient privacy is paramount. However, to achieve the required privacy, some patient data must be deidentified, which may remove key data diversity or information about individuals' Social Determinants of Health, or SDOH (see Theme 2). How can we achieve interoperability of patient data while still obtaining a holistic view of the patient population? It's a complex challenge that many are tackling.
Finally, while retail health options are good for the consumer – lowering costs and bringing more of a consumer mindset to health – they also lead to more fragmentation. When a consumer's health data is disjointed or fragmented across systems, it can lead to more care redundancy, inefficiency, and frustration. With the consumerization of healthcare, therefore, interoperability remains imperative for patient engagement in their care.
Modea's takeaway: Invest in digital solutions that fit into your existing workflows and systems to promote, rather than hinder, interoperability.
Theme 2: Health Equity/Social Determinants of Health
There was a lot of discussion around making healthcare delivery more equitable. Social Determinants of Health are the social, environmental, and economic factors that people are born into that affect their health outcomes. An individual's zip code, for instance, is one of the most important determinants of health outcomes. So, when zip code data is de-identified/removed from patient data, we're missing critical aspects of health data.
Reimbursements, and particularly Medicaid reimbursements, are a critical part of the health equity conversation. If certain healthcare services are not reimbursed, these services or treatment options will not be accessible by lower-income or underserved individuals. For instance, if healthcare services rendered at a community clinic are not reimbursable by Medicaid, and if that community clinic serves a low-income patient population, that patient population will be less able to access the care they need.
There are a ton of startups using predictive analytics to create more equitable care experiences, and we're interested to see how hospitals and health systems leverage these tools in the future.
Two of these startups we heard from:
Modea's takeaway: There are countless angles from which to address health equity and healthcare disparities. Understanding your patient population is a great place to start.
Theme 3: Physician Burnout
If you're a physician and you're reading this, we're not about to tell you anything new. Physicians are burnt out, which was only exacerbated by the extra burdens placed on them throughout the pandemic.
Part of the cause of physician burnout is administrative burden. Unfortunately, the introduction of new digital solutions doesn't always reduce administrative burden; sometimes, it increases it. This is why it's so critical that new innovations fit into or drive efficiencies in existing physician workflows.
As physicians burnout and retire early, health systems are having to hire contract workers to fill these gaps – at a much higher cost. These contract labor costs are one of the largest factors driving down health system margins. Reducing physician burnout not only improves physician retention and the bottom line, it helps ensure that physicians and clinical staff can provide the best care to patients.
The most promising category of solutions to combat physician burnout? Generative AI, as Theme 4 below details. However, generally speaking, tools that promote physician productivity without introducing additional complexities will improve both the provider and patient experiences.
Modea's takeaway: Treat your physicians and other staff as you would any customer segment. Their loyalty, engagement, and happiness are key to your health system's success.

Theme 4: AI
Not surprisingly, AI was the most common theme of the conference. Apart from the word "leverage" (what's a business conference without it?), "ChatGPT" was the phrase we heard most.
Physicians are excited about the possibilities for generative AI in the realms of: personalized treatment planning, diagnostics/clinical decision-making, clinical productivity, combing through the extent of EHR data to reduce error/inform decisions, and more.
Our client, the American Medical Association, hosted an event spotlighting physician innovators and startups who can connect online (or IRL, as was the case at ViVE) via the Physician Innovation Network. During that spotlight we heard several physicians express excitement about the potential of generative AI, so long as the right guardrails are in place.
Modea's takeaway: AI isn't going anywhere, and is getting more advanced all the time. While its implications remain to be seen, it's important to educate yourself on its applications and potential.
Theme 5: Consumerization of Healthcare
This theme is nothing new for us at Modea, and it's clear it's not going away anytime soon. The consumerization experience, and the critical understanding of patients as consumers, continue to be a big topic across startups, providers, and big tech companies.
The shift to retail health (think traditional retailers getting into the healthcare game, such as Dollar General and Amazon) is changing consumer expectations of healthcare. Consumers are seeking convenience, transparency, and lower costs, and they're finding it more easily with these nontraditional "providers."
One big item we hear a lot about when it comes to consumerism in healthcare is the personalization of the patient experience. Patients are seeking out personalized care on their own terms, taking advantage of tools such as at-home diagnostic kits and wearables. As part of that, patients are becoming more comfortable sharing their health data, especially when it promises quicker access to knowledge about a condition or even a treatment. When healthcare systems offer personalized digital experiences, patient engagement increases thanks to streamlined access to care and information.
Modea's takeaway: Care and health are increasingly happening outside the walls of the hospital. We need to meet consumers where they are, through a combination of digital and analog care solutions.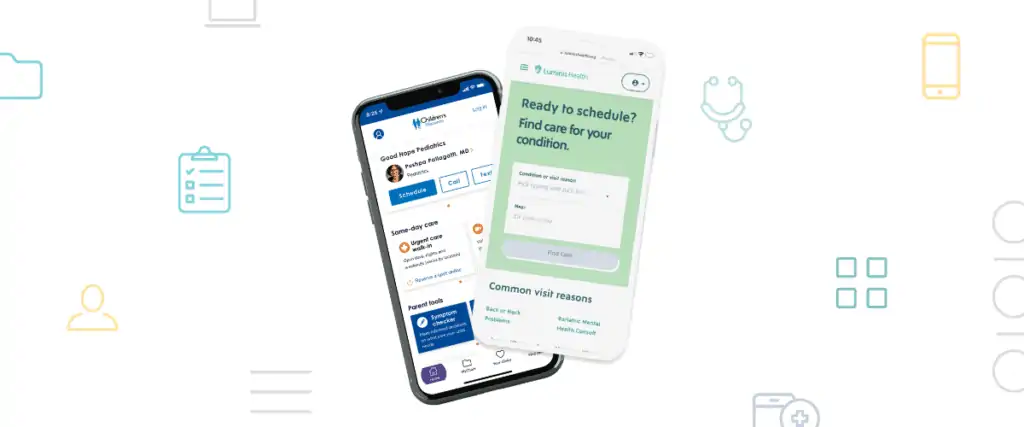 The future of healthcare is constantly evolving, as many organizations scramble to tackle top priority initiatives while addressing shrinking margins. However, we believe there is a bright future ahead when it comes to the technology, innovation, and tools that will deliver better and more timely care to patients. As part of that evolution, we expect staff shortages and burnout to level out and patient journeys to become more personalized and concise.
We look forward to being a part of this future and working to help organizations establish and nurture better relationships with their consumers and patients.