Maximizing Donations for Children's National
GOALS
As one of the top 10 pediatric hospitals in the country, Children's National Health Foundation, funds over 4,500,000 patient visits a year. With constant competition and a rising cost of advertising, Children's National Foundation looked to Modea to help optimize the efficiency and return of their marketing channels.
Services Provided
Analytics and data science
Custom software development
Design
Res

earch

Consumers today require more touch points and time to convert than ever before. At the same time, Marketers are under increasing pressure to prove their return on investment. This pressure often leads to an over reliance on gut feelings and lack of confidence in data.

Our Analytics team worked with CNF to determine what channels generate the most gift revenue and volume, and how often different channels influence gifts. We not only isolated which touchpoints result in the highest income generation, but also accurately valued each marketing channel in the user's pathway to donating.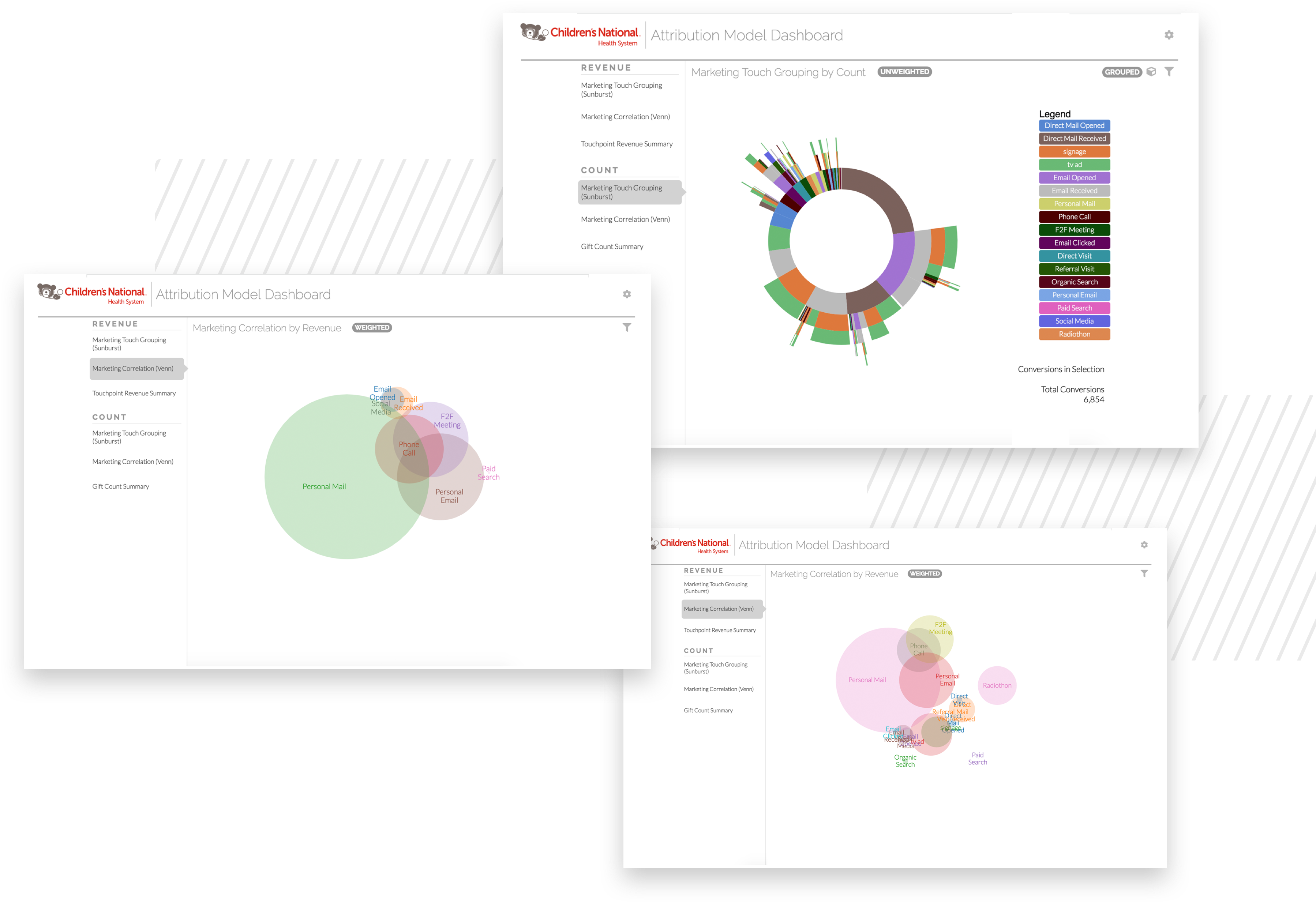 Devel

opment

Our multi-channel attribution model pulls together three distinct types of data to form attributions; individuals, touches, and conversions.
Used Domo to craft interactive data visualization illustrating users' pathways to donations.

Connected donor data from Convio, Raiser's Edge, DonorDrive, and Data Warehouse to our model to better understand what drives donations.

Allocated specific digital touches to individuals with data collected from Google Analytics.
Outco

mes

From the beginning, our analytics work resulted in better decision making and quick wins for Children's National Foundation. Our multi-channel attribution model directly showed CNF which moments matter the most. Now, CNF fully optimizes their marketing channel mix in order to ensure that every child in need receives world-class medical care.

Reduced the cost per $ from $0.82 to $0.07

over the previous fiscal year.