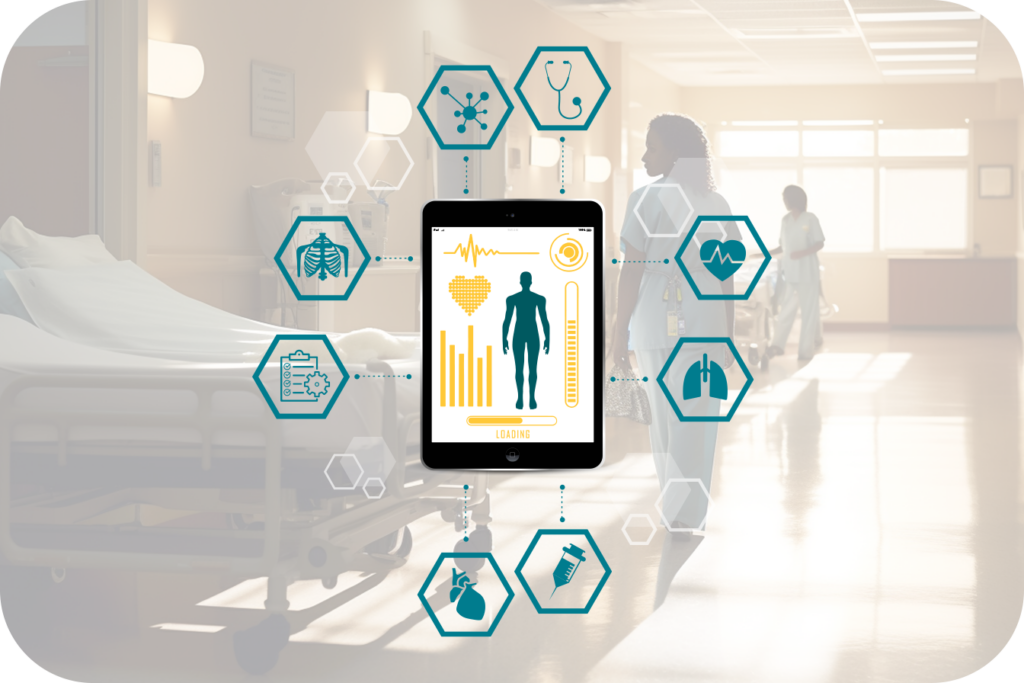 The state of the U.S. healthcare system and the increased demand placed on employees are contributing to a high number of health workers experiencing burnout and leaving their jobs. This trend stems from increasing mental wellness challenges as health workers are put in environments that strain their emotional, psychological, and physical health on a daily basis.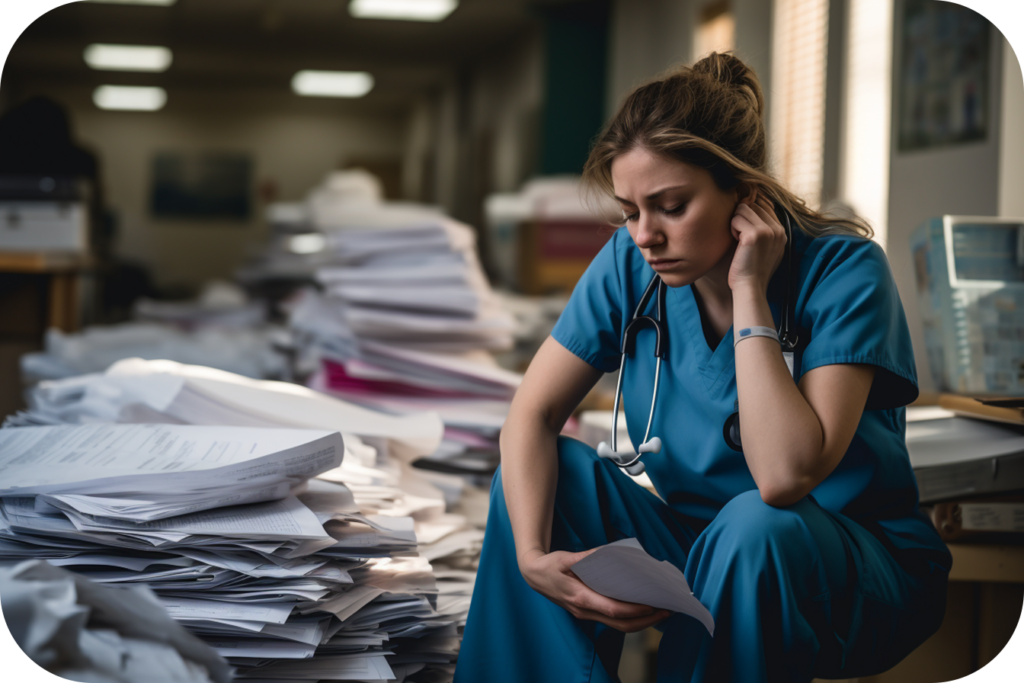 What exactly is "burnout" and how does it affect a hospital?
According to the 2022 U.S. Surgeon General's Advisory on Building a Thriving Health Workforce, burnout is characterized by a high degree of emotional exhaustion and depersonalization (feeling "out of body"), as well as a low sense of personal accomplishment at work. Burnout can also be associated with anxiety and depression, and can be caused by organizational, structural, cultural, and societal factors.
In healthcare, specifically, some major contributors to burnout – especially in the last few years, though these have always existed to some degree – include excessive workloads, long shifts, administrative burdens, and a lack of organizational support.
The Bureau of Labor Statistics predicts that U.S. healthcare organizations will need to fill more than 203,000 nursing positions every year until 2031. There is also a predicted shortage of physicians and behavioral healthcare providers. The growth in the US population and the aging population are two identifiable causes to the physician and behavioral healthcare provider shortage. A shortage of general surgeons in rural areas is also a problem. Because specialists are often not as geographically close to rural communities, rural residents' access to care can be compromised.
To help providers address issues, such as physician burnout and staff shortages, healthcare organizations need to consider short- and long-term solutions that will set them up for success. Many of those solutions come in the form of digital tools.
The Power of Digital Tools
As hospitals continue to deal with the realities of physician burnout, more and more patients need better and more equitable access to care. Utilizing the right tools can make the management of care easier for both the patient and provider.
While there is no single solution that will alleviate all of the issues healthcare faces today, we boiled it down to several digital initiatives we feel are most noteworthy to discuss.
1. Interoperability Across Technology Systems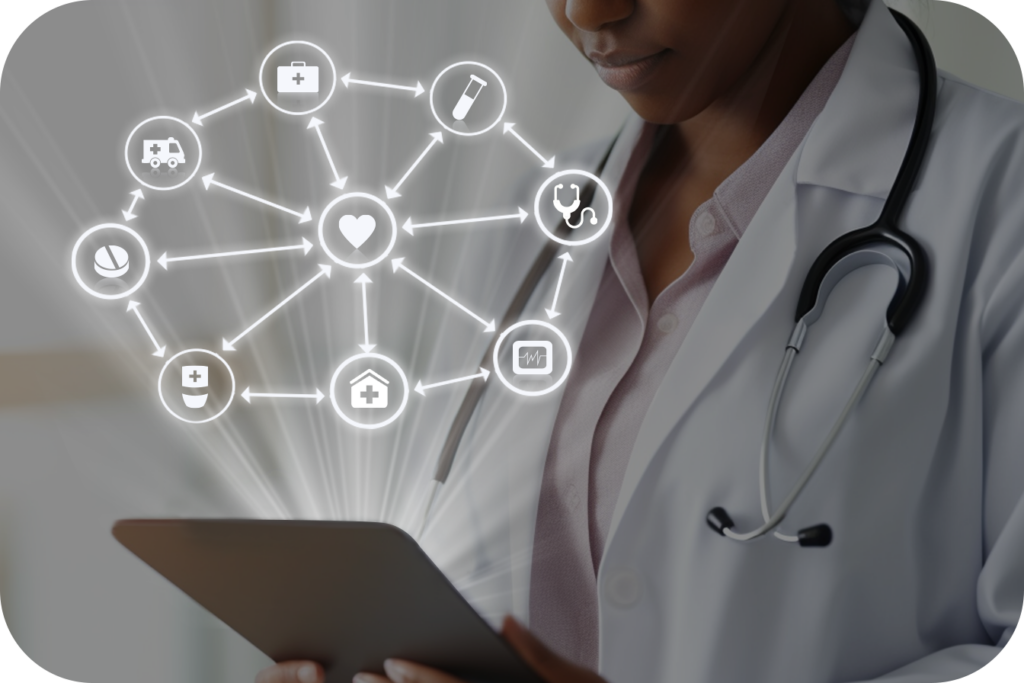 Healthcare systems are adopting new technologies that aim to create significant service enhancements. An EHR system is a great example of a digital tool that aims to alleviate fragmentation of care, but properly introducing it to your organization, or managing a current one, is no small task. As new technologies are added to different departments in health systems, many of these technologies don't speak to each other, which can cause frustration and even create more work for staff.
A 2021 study found that healthcare workers' frustration and emotional exhaustion increased due to the lack of interoperability and cross-functionality in using new technologies. Having a strategy to ensure collaboration and synergy between staff and new digital tools is key in improving services, access to care, and staff workload.
Working towards better interoperability can alleviate some of the difficulties surrounding operations. Interoperability allows health data to be exchanged between different systems and, therefore, creates a better and more streamlined health information ecosystem, which can effectively lessen the strain on those using and accessing the data. Digitizing and automating services through third-party vendors or within the existing EHR system is also beneficial as it relieves health workers from completing mundane and repetitive administrative work. (Note: any initiatives dealing with the sharing of patient data will mean heavy involvement from your organization's IT security and compliance stakeholders.)
Where to start: Modea recommends departments, such as marketing and IT, come together and audit the current technologies as well as the needs of the organization. Have you thought about creating journey maps for your staff? Consider how different members of your staff use various technologies and identify areas in their journeys that are complex and burdensome.
We have worked with clients to create customer journey maps, as well as internal staff journey maps, so reach out to us if you would like to talk more in depth on this topic.
2. Investing in Intranets For Staff and Providers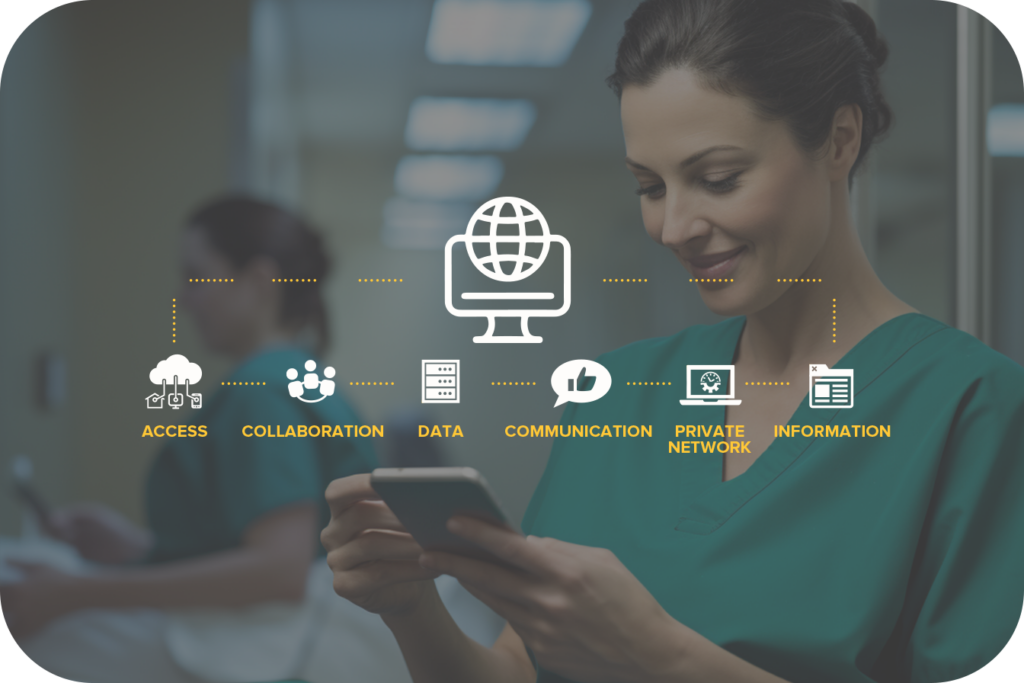 An intranet is a private network within an organization and is used to securely share information and resources amongst employees. It encourages communication and allows employees to easily access important training, forms, and applications. An often overlooked digital tool in healthcare, an intranet, serves as a valuable tool and a facilitator in communication and employee engagement.
Interestingly, engaged employees are 87 percent less likely to leave an organization than those disengaged. Intranets also have social and collaborative features such as comments, direct messaging, and document sharing. These features allow for seamless communication and sharing of information across departments, which can allow staff to work more efficiently and be more engaged.
Where to start: Most healthcare organizations have some sort of intranet in place, but they are often the last digital asset to receive any updates or improvements. We recommend creating a survey for all employees to contribute feedback on how they use the existing intranet and the improvements they would like to see. Users may use intranets for different reasons, so segmenting your audiences can create better tailored experiences. Maintaining anonymity can allow staff to be candid on the daily challenges they face when using the system and then work to gain organizational alignment on the importance of using that data to make changes. With burnout increasing amongst healthcare workers, having the right internal resources is as important as external patient-facing digital tools.
3. Open Scheduling and Online Visits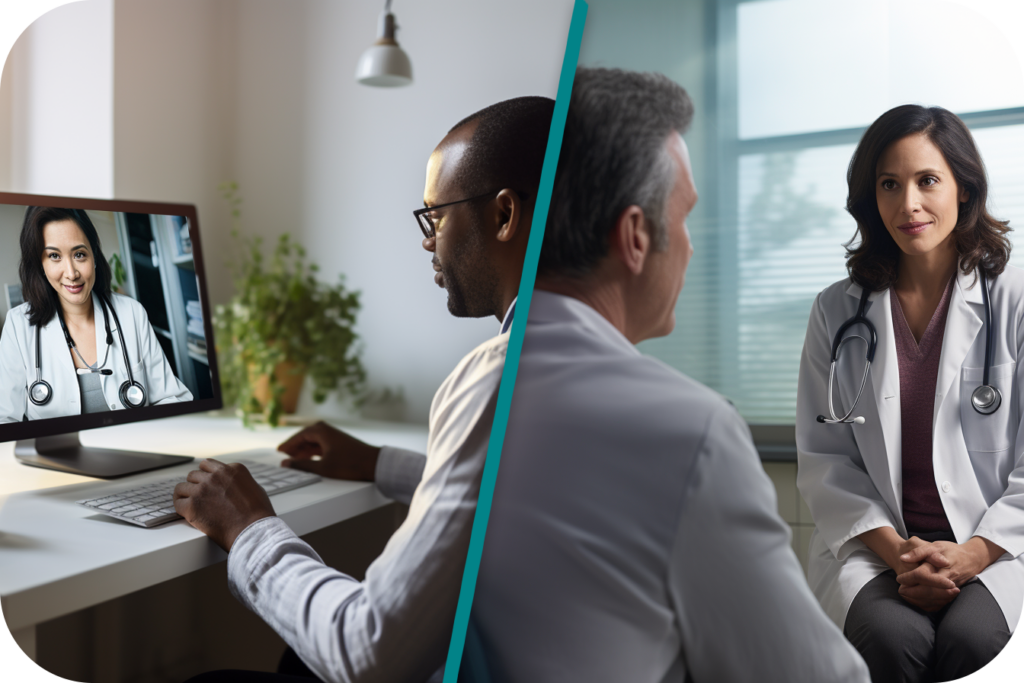 On average, virtual appointments can save time for patients and providers by 105 fewer minutes than in-person care, as virtual care removes the need to travel to a doctor's office and wait in a waiting room for periods of time. However, healthcare organizations can be slow to adapt and create the right digital tools to schedule and facilitate online visits. Offering open scheduling, which lets patients make same-day appointments, can reduce the stress healthcare workers face when trying to squeeze a patient in for the earliest available appointment.
Embracing a hybrid care model will have positive impacts upstream as patients will have easier access to the care they need, regardless of their location and circumstances. If your organization takes a "consumer first" approach to digital and provides the ability for a patient to search and find the right doctor for their condition, it will help lift the staff burden from fielding unnecessary calls and inquiries while allowing them to focus on other important tasks.
Patients expect to receive care that is best for them, whether virtual or in-person. A hybrid care model offers flexibility for patients and providers.
Where to start: Modea recommends beginning with organizational alignment on the approach to online scheduling and a hybrid care model. The most common barrier is open scheduling and provider reluctance to implement this due to less control over their schedules.
4. Enable a Self-Service Patient Experience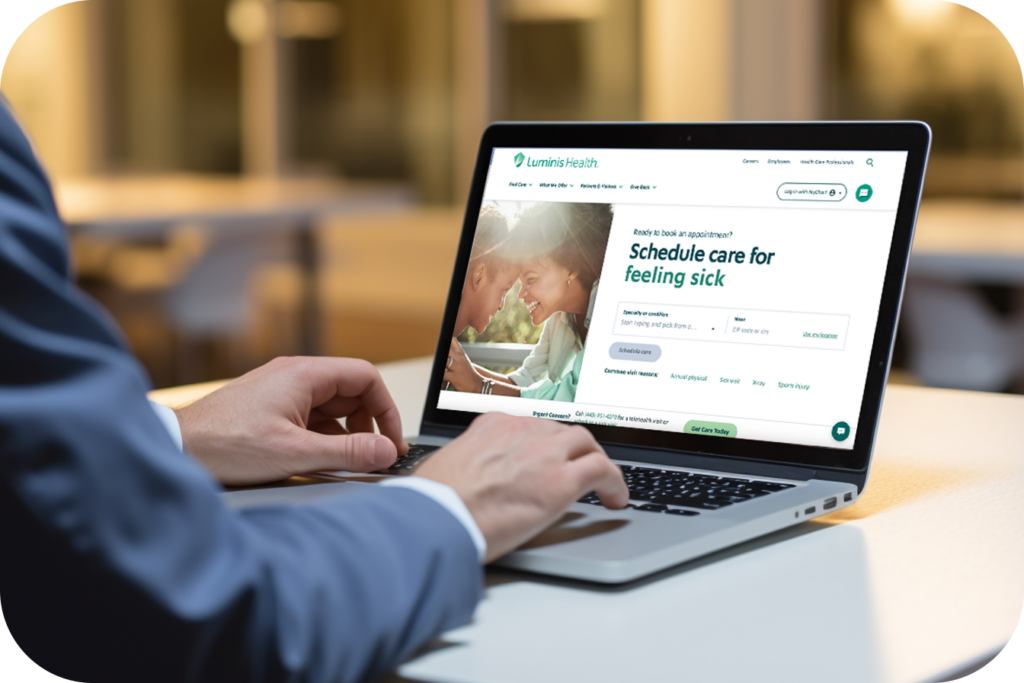 The information provided on a healthcare website may help patients determine whether they need care based on their symptoms, as the right online information may save patients from making unnecessary appointments or seeing the wrong provider. Empowering patient self-service lessens health workers' time and work spent on scheduling and attending to low-value appointments. Open scheduling is another form of patient self-service. Valuing your healthcare staff's time by offering patient-focused, less burdensome solutions empowers both healthcare workers and patients in their care.
Studies have shown that the U.S. healthcare system provides a high number of low-value care, which is defined as medical services that have the potential for harm or high cost, and generally outweigh the benefits. Low-value care can be wasteful and often lead to overtesting, overdiagnosis, and overtreatment. It has a staggering estimated cost of more than $300 billion annually.
Wasted resources, time, and the administrative work that come with unnecessary or low-value care appointments can be mitigated by providing educational resources about conditions and health management on your clinic or hospital's website. Not only is it beneficial for a health organization's site to provide valuable resources and the right information to online users because it is educational and helps improve their care journey, but it also builds trust and authority in the organization. Websites can play a critical role in addressing and solving unmet healthcare needs.
Where to start: We recommend working internally to align on how to think of your website not as "just a website" but as a digital asset and tool that is critical to how you provide care to your patients. Consumers and patients today can access care from almost anywhere in the world and while self-service is not a traditional means of health management, more and more hospitals are introducing it. Customer research can help illustrate to stakeholders and leadership what your patients really want and how they prefer to access their care, which will further solidify the importance of making these digital investments.
5. Embrace Mobile For All Audiences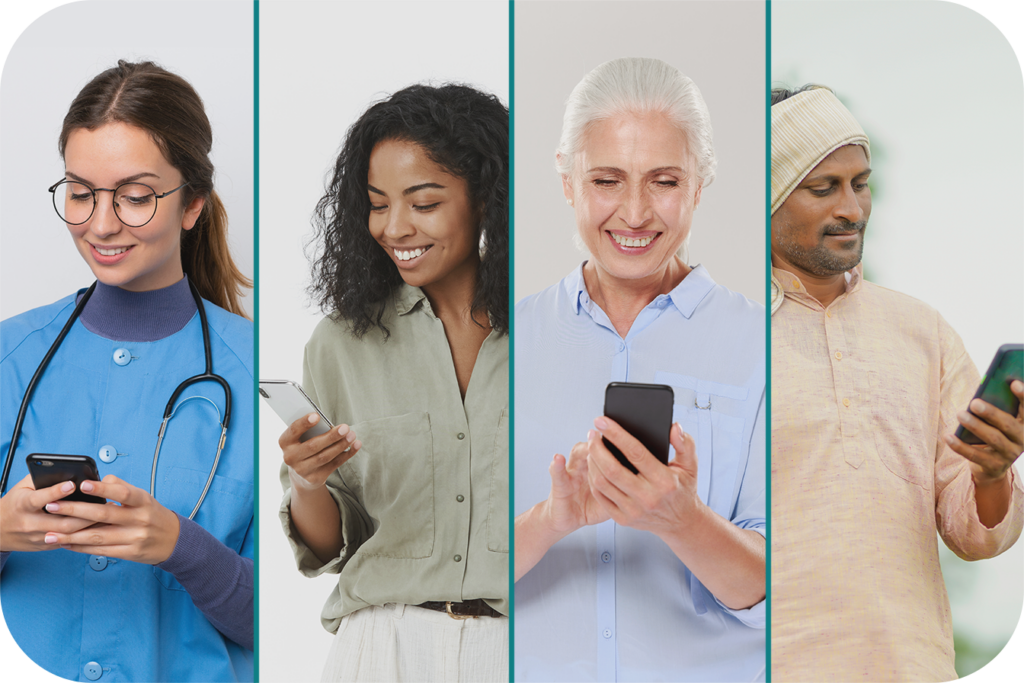 Consider your mobile strategy. Having a well-thought-out mobile app that delivers a seamless experience provides another way for patients to trust your organization and access their care on a device most Americans already own.
Developing a mobile app that innovates how consumers access their care and enhances a healthcare organization's digital footprint offers a personalized and customized experience unique to that organization and patient, which builds a stronger relationship with your brand. Mobile health apps are designed to complement in-person and online patient experiences and are another tool that improve the patient journey. Even with complex EHR systems, such as EPIC and Cerner, there are still ways to personalize the experience and build a proprietary app that your organization owns. It is key to maintain interoperability and unified data so the systems talk to each other. Doing so reduces additional work for healthcare staff.
Building an internal mobile app for your healthcare staff is also a way to facilitate and streamline communication to health system employees – many of whom spend their days moving throughout a hospital. An internal mobile app can be the hub of all your employees' needs. It can offer visibility into benefits and payroll information, the ability to submit and review IT help desk tickets, quick access to company messages and news, targeted employee communications, and can even house nurse schedule management.
To fully reap the benefits of your digital investment, educating patients and staff on how to use the apps will support self-service and increase engagement.
Where to start: Research your competitors to see what they are offering and the digital experience they deliver to their patients. Modea can help with the planning around building a native mobile app, or modifying what you have, and the reasons to support various approaches. We have extensive experience in mobile apps for healthcare and can help guide your organization to the perfect mobile asset. Whether building tools for internal or patient-facing purposes, don't forget about the importance and convenience of mobile.
In Conclusion
Healthcare systems are becoming increasingly complex and, with the introduction of emerging technologies, are feeling constant pressure from customers – both patients and internal – to elevate their digital tools and experience. To help mitigate healthcare burnout and unify communication between patients and providers, healthcare systems should collaborate and partner with specialized technology consultants to facilitate a smooth digital transformation journey.
Thinking about how your company needs to digitally transform? Modea can help you strategize and utilize the right tools for you.